Dawn Pennington
Dawn Pennington, the founder of Penningtons School of Cake Artistry, first started her training at the prestigious Mary Fords Cake Artistry Centre, Southbourne, where she completed a full apprenticeship in confectionery and cake decoration training under Mary Ford and the ever respected master of royal icing Eddie Spence MBE. Dawn also produced 3 cake decorating books with Mary Ford which were the first teaching books of their kind helping to increase the popularity of sugar craft.
During her cake decorating career Dawn entered numerous competitions winning many Golds and also contributing to the table of honour, which is by invitation only. Having decided teaching was where her heart lay, Dawn started her career in teaching at Bournemouth and Poole College where she built the sugar craft department to a centre of excellence. In 2010 Dawn started her own cake school, 'Pennington's School of Cake Artistry', which is going from strength to strength.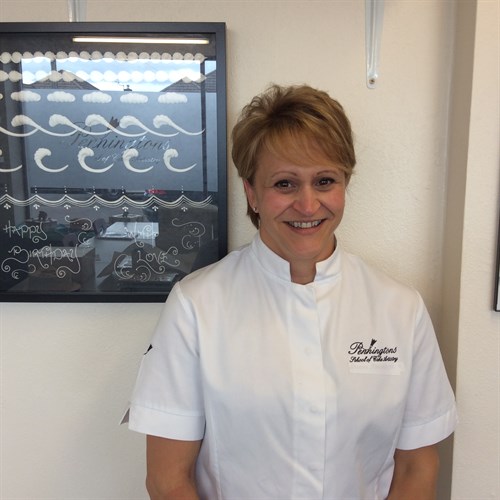 Kerry Mcfarlane
Kerry started her love for cake artistry 15 years ago, by doing cakes for family and friends. She quickly found that this stimulated her creative side and led her to decide, in 2008, to take it a little more seriously and went to Bournemouth & Poole College. There she started to do evening classes with Dawn, which led to a qualification in cake decoration which she passed with distinction. During this time she started her own cake business from home "Kerrys Cakes", enjoying enormously all the challenges creating bespoke cakes.
Then in 2014 she started teaching at Penningtons, her speciality is wired flower classes and she is our head tutor in sugar craft. Now she is also teaching carved, novelty, Royal icing and cupcake courses. She hopes to pass on her skills and share her love and passion for cake artistry to our students.
Mark Tilling
Delighted to have Mark Tilling as a guest tutor at Penningtons, where he shares his enthusiasm of chocolate with the students. Mark was made a UK Callebaut Chocolate Ambassador which is a position he has held for the last five years. "I have a great passion for teaching and enjoy passing on my skills to all kinds of people." He teaches a range of classes from chocolate and pâtisserie.
In 2016 Mark's team took part and won the title of "Bake Off's Crème de la Crème" an eight part series on BBC Two to find Britain's Best Team of Pastry Chefs.
Just recently, Mark was approached to take part in Extreme Chocolate Makers for Channel 4 in 2019 and was featured in 4 episodes.